04apr5:30 pm8:30 pmImmediate Implant Placement, Extraction Site Management & Partial Extraction TherapyPRESENTER: Dr. Isaac Tawil, DDS5:30 pm - 8:30 pm MST Colorado Dental Association
Event Details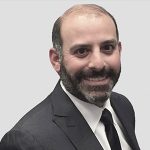 PRESENTER: Dr. Isaac Tawil, DDS, Dentist, Brooklyn, New York

Immediate Implant Placement, Extraction Site Management & Partial extraction Therapy
This presentation will focus on alveolar defects seen immediately following tooth removal with emphasis on evaluation, classification, and treatment guidelines of the extraction socket.  Parameters to be assessed include gingival phenotype, buccal plate status, number of bony walls, and soft tissue status.  Clinical and CBCT based diagnostic and treatment protocols will be featured that include evaluation, timing, and sequence of extraction site management for both soft and hard tissue grafting.  Graft materials, bioactive modifiers and the use of membranes will be presented in a step-by-step protocol.  Temporization utilizing immediate loading protocols.  An in-depth review of a new innovative armamentarium and techniques utilized for Root membrane (Socket Shield) for tooth replacement with dental implants.  A step-by-step design and utilization of each bur and tool will be highlighted as well as a biological rationale supported by current literature and histology.
Learning Objectives:
Describe sequential surgical treatment planning for implant treatment, including alternative treatments, based on interactions between implants and host tissues.
Review bone-grafting procedures following tooth extraction.
Describe predictable soft tissue management of extraction site.
Classification of gingival types and defects and techniques to preserve and develop keratinized tissue.
Guided surgical solutions.
Implant selection.
Temporization utilizing PMMA Fuse abutment and final abutments with an emphasis on developing emergence profiles.
Immediate loading and criteria, when to restore implants using ISQ device.
History and biology benefits of partial tooth removal.
Understand the rationale for incomplete extraction of a root.
Techniques to atraumatic removal of part of the tooth.
Time

(Thursday) 5:30 pm - 8:30 pm MST
Location

Colorado Dental Association

8301 East Prentice Avenue, Suite 400, Greenwood Village, CO 80111
RSVP (DISC 2019 Members Only)
To RSVP for this event, please call Dr. Leopardi's office at 720-488-7677.